Stop the Violence please

I am Della Jo- Ann M McGinnis Johnson,I am the 5th Generation Granddaughter,Of Mary Hardin Simmons, and John Kopel McGinnis, The Story of Mary and John K McGinnis, is one you must obtain for your family History records libraries. The Sticker and McGinnis stories of the settlings Of Powhaten Kansas. How they triumphed the trails of the day To Journey to Kansas was quite the story.I have obtained my copy from James Sticker.The Author Of Prairie Pilgrims.Anundsen publishing company, Decorah Iowa,

From ILL to Brown County Kansas 1875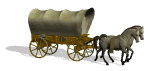 They Traveled By Wagen To Their New Home In Kansas Powhaten
finding all the Pieces that fit in a family history. It has been very exciting finding all those skeletons Hiding in far off places in nooks and crannies of history .Hidden in-between the heros of the more celebrated Men and Women of our past ,Events of our growth of civilization called progress. Within the pages of History books. I have found the events my forefathers have helped forge. This Country in to the great nation it is today, I am proud of were I have came from For it has given me a set of values to be proud of.

With in these pages are links to Family history's, vetrens centers,Genoleagy links to useful reaseach centers, All of whitch i have found useful in my search.
Add us to youre favorites, Visit offten.
many links to reasch from.
The Family Nurse

The Family Nurse